Ready to go from dreaming up your new space to enjoying it?
Let's walk through the 5 simple steps to your stunning new space.
The Process
1
Get a Ballpark Estimate
Fill out our quote form to request a complimentary estimate for your frameless cabinet project. Choose your preferred form style below to get started. (Plan for this to take about 1-5 minutes, depending on your selections). See sample pricing
We recommend this option because it's quick and easy. Just upload your floor plan and we'll use the layout to estimate your cabinet needs and get you a budget quote. Specific cabinet options can be refined during Step 4 below.
If you're detail-oriented and know exactly what you want, this more thorough option might be for you. Choose your individual cabinets and options one by one for a more precise quote.
2
SCHEDULE A NO-PRESSURE CONSULTATION
Was your ballpark estimate a good fit for your budget? If so, it's time to talk one-on-one with a Cabinet Coach so we can answer your questions and discuss your project needs.
3
Order Samples
The best way to choose your cabinet finish is to witness it in person. Choose from a sample kit and/or door(s). Samples fees are credited back toward your order. And, good news! We can make progress on Step 4 while you wait for your samples to arrive.
Order samples here
4
PERSONALIZE YOUR CABINET LAYOUT WITH A
DESIGN & DETAILED QUOTE
Now that you're comfortable with the plan, let's dig into the details. In this phase you'll work with your Cabinet Coach to get an Access Design, then refine the layout and cabinet specifics (configurations, end panels, accessories, etc) until you're completely satisfied with your design. A detailed quote will be created to match your design. Most customers will go through 1-2 design/quote revisions during this phase.
See a sample Access Design
5
Place your Order
You've selected your finish(es) and signed off on your design – your new space is within reach! It's time to have a final consultation with your Cabinet Coach to review your order line-by-line. After this you'll place your order and your cabinets will go into production!
Cabinet Assembly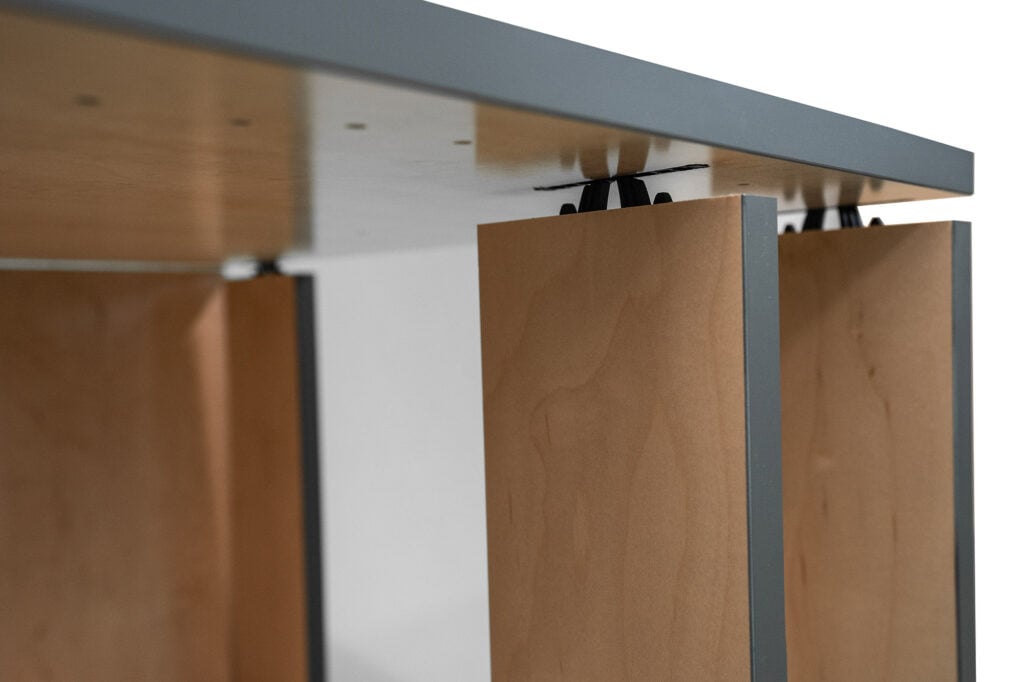 Frameless RTA cabinet assembly will be a snap with this patented interlocking joint system. With a screw gun, dead blow mallet, and a little patience… your cabinets will go together with ease!